We Care About Kids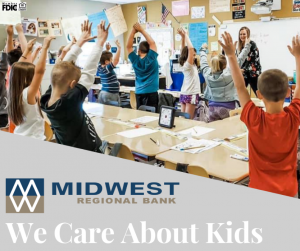 Midwest Regional Bank is excited to announce that we are taking requests for our 2019 We Care About Kids program. Since its founding, Midwest Regional Bank has donated over $300,000 to local schools through this program. We can't wait to continue with these donations! Due to the growing number of requests each year, there have been a couple of changes to the application process. To make a request, please send a 2-3 paragraph email to akimrey@mwregionalbank.com including the following:
Your name and/or the names of each individual in the applying group
School, district, grade/subjects/club/department
Amount you are requesting up to $10,000
What you would like to purchase with the money?
How would you use this item(s)?
How this will benefit your classroom, school, or students
How it Works:
After the cutoff date of September 20, 2019, 10 submissions will be chosen at the discretion of the Midwest Regional Bank We Care About Kids Committee. Those 10 submissions (along with a photo) will then be placed on the official Midwest Regional Bank Facebook page for public voting. The 3 entries with the most "likes" will receive their requested amount up to $10,000. Voting will conclude on October 24, 2019 at 12:00p.m. Finalist entries will be posted on the official Midwest Regional Bank Facebook page. For updates, make sure to follow our page.